On Location and In-Studio makeup artist

Consultations and lessons are usually done at my home studio in the Bankers Hill area of San Diego. If you prefer, previews can be done at a location of your choosing. For your wedding day, I will come to you to make your day as hassle-free as possible, and you can sit back and enjoy getting pampered with your friends and family!

Interested in hairstyling services as well? We can make that happen! I work with a handful of incredibly talented hairstylists that each have their own bridal businesses, and we team up to take care of all your bridal beauty needs. Just let me know if you are interested in wedding makeup only or wedding makeup and hair services when inquiring about availability.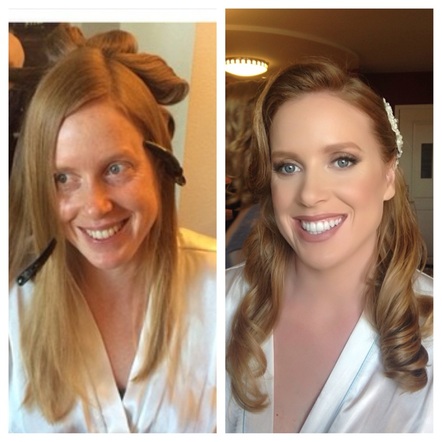 RATES 2016
For the Bride

Wedding Day Makeup: $125 (1hr)
Wedding Day Makeup with Airbrush: $135 (1hr)

The Preview

Coffee Break Consultation: Complimentary (dependent on my availability and only offered on weekdays)
The Preview Makeup: $95 (1.5-2hrs)

The Wedding Party

Makeup: $85 (45min)
Makeup with Airbrush: $95 (45min)





Additional Fees & Information

Holiday Weddings add an additional 15%

​Bride-only bookings (only the bride is using my services) will incur an additional fee to meet my minimum and the total must be paid in full at time of booking

Early morning fees will be added per service that begins before 8am

False lashes are included at no extra charge

Airbrush for the bridal party is only available if the bride has requested airbrush for her own makeup.

Parking fees are to be paid by the client

Travel Fees will be added for weddings and previews if done at a location other than my studio space

A non refundable retainer is required to secure the date. This amount will be applied to the total amount due on or before the day of the wedding.


---
Step 1: Send me an email at kimm@kimmdicato.com. Please include as many details about your wedding as possible. At the very least I will need the date, approx. time you will need to be ready, how many people are interested in getting their makeup done, and location you are getting ready.
Step 2: I will respond and let you know if I am available on your date and send you my full rate sheet for you to look over. This is the time to get a head count of those who are serious about booking makeup as well as check with your coordinator and photographer about the timeline for your wedding day to make sure the initial info you gave me in your inquiry is still correct.
Step 3: You actually have 2 options at this point...
Option 1- Book the date and time for your preview session. I usually recommend we do this no more than 6 months before your big day with somewhere between 2-4 months before your wedding being ideal. This option is great for those who like to try before you buy. But this also comes with a little risk as I may end up booking your wedding day before your preview happens. Sorry no previews on Saturdays.
Option 2-
If you want to check finding a makeup artist off your list of things to do ASAP this is the option for you. Go ahead and skip
straight to Step 4.
Step 4: Make it official.
Request the contract and payment options for the retainer. Once I receive the signed copy of the contract and the retainer your date is officially on my calendar and you have booked me to be your makeup artist for your wedding day! If you chose to do your preview session first I will have a contract ready for you to sign at the end of the preview if you would like, or you can always ask me to email it to you after the preview. Once I have sent out a contract I will need to receive the signed copy within 7 days, otherwise your date will be released and you will need to request a new contract as the first one will have expired. If you chose to skip Step 3 you can always book a preview session closer to your wedding or you can skip it altogether as I do plenty of weddings without a preview.